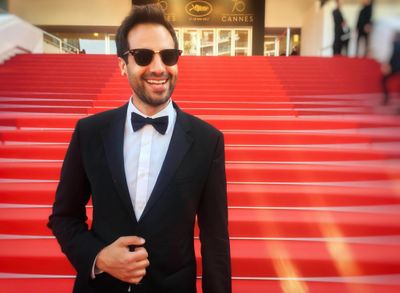 Samir Hussein is a multi award-winning Royal and Entertainment photographer. Spending much of his time as an official photographer capturing the British Royal Family he also documents the world's biggest entertainment events, artists and celebrities.
His photography is high-end, stylish and sophisticated, yet still embodying humanity.
His timeless imagery has been extensively published on the cover of the world's biggest publications, such as Vanity Fair and Paris Match, as well as gracing Royal stamps, coins and big-scale advertising and marketing campaigns.
He has won numerous awards including being crowned Arts and Entertainment Photographer of the Year on three different occassions at the prestigious Picture Editors Awards as well as Royal Photographer of the Year in 2021.
His image of Harry and Meghan walking through the rain in 2020 went viral and has been described as one of the most iconic royal photos ever taken.
As a Royal photographer Samir regularly travels abroad with the British Royal Family, most notably capturing the journey of Prince William and Catherine, Duchess of Cambridge since their engagement, the subsequent wedding and arrival of Prince George, Princess Charlotte and Prince Louis. He has also documented the relationship between Prince Harry and Meghan since before their engagement. This has led to him becoming one of the most widely published Royal photographers in the world.
Samir is also renowned for his classic celebrity photography. He gains access to music's key happenings such as the legendary Glastonbury Festival, the BRITs and the MTV Awards. Film festivals such as Cannes, London and Paris Fashion Weeks are on his radar as well as VIP private portrait shoots.
He has shot for some of the world's biggest music artists while on tour, such as Taylor Swift, Adele and Mariah Carey.
Represented by Getty Images, Samir's client list includes luxury brands and high end organisations including: Soho House, MTV, IWC, Vogue, Mouton Cadet, P&G, Ralph & Russo, Business of Fashion and Freuds.
AWARDS
2021

- Royal Photographer of the Year {BPPA Awards}

- Event Photographer of the Year - People's Choice Award {British Photography Awards}
- Highly Commended Arts & Entertainment Photographer of the Year {BPPA Awards}
2020
- Entertainment Photo of the Year {Getty Images Editorial Awards}
- Honourable Mention Editorial {International Photography Awards}
2019
Arts & Entertainment Photographer of the Year {Picture Editor Awards}
2018
Arts & Entertainment Photographer of the Year {Picture Editor Awards}
2017
Highly Commended Royal Photographer of the Year {Picture Editor Awards}
2016

Arts & Entertainment Photographer of the Year {Picture Editor Awards}
Highly Commended Royal Photographer of the Year {Picture Editor Awards}
2015
Entertainment Portfolio of the Year {Getty Images Editorial Awards}